Everyone loves to look their best on Valentine's Day, the holiday that's all about love and romance. Whether you're going to spend the day outside with friends or dining by candlelight with a romantic date, your looks play a pivotal role in how you feel. Regardless of what you choose to do, you deserve to look and feel stylish. Read on for our take on Valentine's Day outfit ideas, as style is an essential ingredient in creating an atmosphere that can make you look and feel irresistible!
We've compiled a list of the best little black dresses so you can choose which one fits your mood, personality and body type.
Style Tip: Make your look even sexier with a pair of the most trendy super shiny tights.
Fuchsia, pink and red are more playful, flirty and in the right fit can be seductively provoking.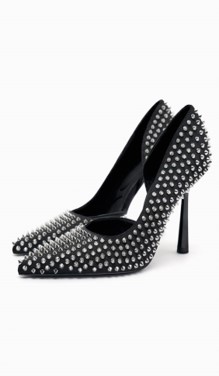 Style Tip: If you choose to wear Valentine's Day colors, add a metallic or a studded high-heel shoe to elevate your look to super hot!!
What matters most is that you let your creativity shine. After all, your outfit should represent you, and on the most romantic day of the year, you want to let out your most authentic , seductive, and adorable self.
Do not focus on the details that will stress you out; enjoy the process!